JACKPOT JACK THE ULTIMATE FLUTTER FINDER ON STEROIDS!
A HUGE welcome to the home of BIG WIN Bets hosted by the one and only "Jackpot Jack!" This man packs a powerful punch when it comes to winning at Win Bets, Each Way Bets, Doubles, Trebles and Lucky 15 Bets.
If you're looking for some BIG WINS throughout the year and love the idea of jumping for joy when the cash floods in then this is most certainly for you... Jackpot Jack is your man!!!
Jack isn't a man for boring betting, no, this is a guy who has a ton of experience when it comes to hitting the bookies hard.
He's the Sport of Kings player who is responsible for making big profit for those who know him. When he hits... he hits hard and can leave the enemy in a daze for days if not weeks!!!
Jack has teamed up with Flutter Finders to bring his fantastic formula to more hungry punters who want more spice, fun and excitement when it comes to their daily bets. He's a man with a plan and we entice you to jump on board ready for the next big bookie bashing!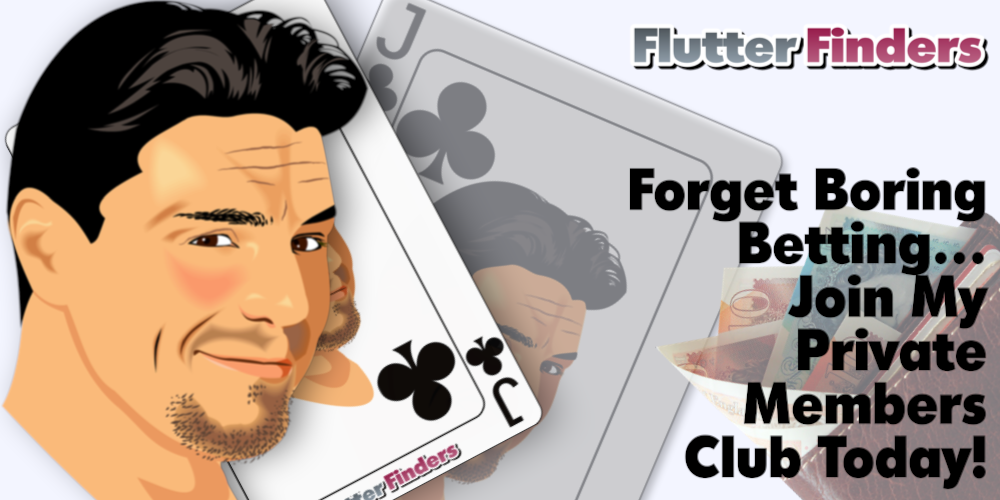 Since he started using his multiple betting formula many, many years ago he has never looked back! Today you have the opportunity to join him and get in on all the action.
You deserve a winning hand at the races and Jack is more than confident that if you join his Private Members Club you'll get that winning hand and WIN BIG when he does!
Joining is so easy... all you need to do is click on a membership period that suits your needs.
Monthly membership costs just £19.97 or if you prefer you can effectively get a FREE MONTH every quarter by paying a silly low fee of just £39.94!
Don't hang about now... you could be part of the next big racing profit phenomenon! And all at Flutter Finders suggest you take advantage today, giddy up and enjoy the wild ride!
We're predicting an amazing adventure ahead and want you to be part of it!!!
Click a button below to get started today...
Best Value
Price Slashed
Monthly
Renews every 28 Days at £19.97.
Next Payment due 31st Dec 21
You can cancel at any time.
Best Value
Price Slashed
Quarterly
Renews every 90 Days at £39.94.
Next Payment due 3rd Mar 22
You can cancel at any time.